We love
Jellycat
stuffed animals. They are sooooo cute! Their
bashful
collection is our favorite but all their stuff is cute. It all started when Lucy was born and a friend from Johnny's work bought her the Jellycat monkey.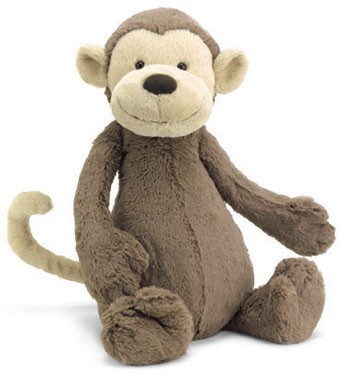 Lucy became attached to it when she was still a baby. We loved it because it was soft and cute. Well her monkey (who has remained simply "monkey") has been her sleeping companion ever since. She used to take him everywhere with her, but now she just sleeps with him. It was nice to have something else to continue comforting her when we took the binky away at age 2.
Lucy was 2 here. This is right after a nap I'm sure. Monkey is even more beat up looking now. But we love him!
So when I was pregnant with Jenna we decided we'd get her a Jellycat animal and make it kind of a tradition in our family. We chose this squishy little piggy for her.
Jenna loves her piggy too, he's been there through the bad and the good. (Oddly enough, they've always been "he's".
With girl number 3 just a month from joining the ranks we decided we needed to pick her out an animal. This is the one we landed on:
The purple hippo. I think he's so cute. So, I guess if we don't have a name for this baby it's ok, because we've at least got her a Jellycat all ready and waiting!